Our touch table for restaurant
We offer touch table specifically designed for bar and restaurants. Such table allows your clients to check the menu directly on the table, with no waiting for the waiter to take care of them. The menu is always up-to-date, full of all useful informations, and orders can be delivered directly to the kitchen. No waiters is needed, or he can be there to upgrade the order of the clients or gice specific advice in order to sell better products.
Tables are splashproof, antiscratch and react only to fingers touch.
touch table for restaurant
Along with the table, here is the DELYSS application to order on the tables :
DELYSS
Food order on touch tables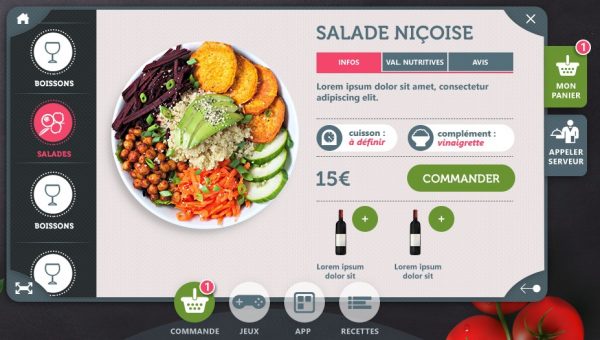 Solution price:
29 €HT /table /mois
for 10 tables
---
To use your touch solution and to display your offer, your informations, or the interaction you are offering to your visitors, DYMENSION propose several touch hardwares : touch tables, interactive storefronts, console, kiosk, totem, tablets, interactive systems…
Other touch furniture
Upon request