Design peu encombrant et pratique
Combinant la nouvelle technologie multitouch de propagation par onde lumineuse Lightwave, cette table tactile se démarque de sa grande sœur La Lightwave HK de par sa finition. Légèrement plus petite et intégrant une architecture informatique moins poussée, la Surface Lightwave ADK est le compromis parfait en performance et prix. Cette table tactile est le meilleur moyen de profiter de la technologie Lightwave associé à une détection multitouch pouvant aller jusqu'à 16 points de contacts.
Réelle technologie Multitouch
Reconnaissance de la forme (taille) du contact permettant de différencier des objets
Temps de réponse minimal
Aucune technologie liée à l'écran ou réactive à l'éclairage.
Aucune technologie liée à la pression, reconnait les doigts et les objets
Aucune calibration nécessaire
Configuration de l'unité sur mesure (taille de l'écran, processeur, mémoire)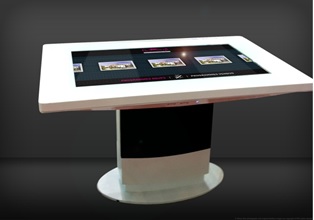 Caractéristiques techniques
Écran 55 pouces
Ecran LED tactile AUO
Pixel Arrangement : RGB vertical stripe
Temps de réponse: <6.5ms
Resolution: HD 1920*1080
Nombre de couleurs (Hue): 16,77 M
Luminosité: 450cd/m2
Contraste: 4000:1
Angle de vision: 178°
16 points de contact simultanés
Technologie tactile: Lightwave
Résolution tactile: 32767×32767
Précision tactile : 0.1mm
Contact reconnu : objet opaque
Taille minimale : 3mmx3mm
CPU: Intel g630 2.00Ghz
Disque Dur : 320GB, SATA
Mémoire Ram : 4GB, DDR3
Carte mère: Nvidia MCP79
Carte graphique: INTEL GMA 4500
Dimensions :

Taille de l'écran : 135 x 83 cm
Hauteur de la table : 70 à 80 cm
Poids : 65 kg
Space-saving practical design
With its new multitouch technology using transmission by light waves, the finish of this touch table differs from that of its big sister the Lightwave HK. Slightly smaller and with a less powerful integrated computer, the Surface Lightwave ADK is the perfect compromise in terms of price and performance. This touch table provides the best way to enjoy Lightwave technology combined with multi-touch detection of up to 16 contact points.
Multitouch technology
Recognition of the shape and size of the contact to distinguish different objects
Minimal response time
Zero screen-linked or light reactive technology.
Zero pressure technology, recognises fingers and objects
No need for calibration
Bespoke configuration (screen size, processor, memory)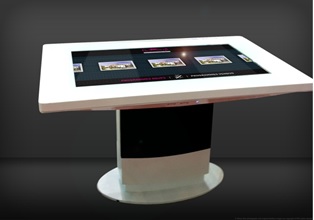 55  » Screen
LED touch screen AUO
Pixel Arrangement : RGB vertical stripe
Response Time: <6.5ms
Resolution: HD 1920*1080
Display colour (Hue): 16,77 M
Brightness: 450cd/m2
Contrast ratio: 4000:1
Viewing angle: 178°
16 simultaneous touch points
Touch technology: Lightwave
Touch screen resolution: 32767×32767
Touch screen precision : 0.1mm
Recognised contact : opaque object
Minimum size : 3mmx3mm
CPU: Intel g630 2.00Ghz
Hard disk : 320GB, SATA
Ram Memory : 4GB, DDR3
Motherboard: Nvidia MCP79
Graphics card: INTEL GMA 4500
Dimensions :

WxD : 135 x 83 cm
H : 70 à 80 cm
Weight : 65 kg