[:fr]
La plus confortable.
Fonctionnalités
La table tactile Dymension HK-LightWood est dotée de la technologie multitouch LightWave qui utilise certaines caractéristiques de la propagation des ondes lumineuses. Quand un contact touche la surface, le réseau est perturbé à l'instar d'un filet déchiré. Cette technologie peut détecter jusqu'à 32 points de contacts même s'ils se chevauchent, et détecter l'étendue de la surface qui perturbe le réseau lumineux.
La particularité de ce modèle réside dans son design : l'écran est incorporé dans une structure en bois qui rend cette table particulièrement accueillante et pratique, puisque l'on peut y déposer ses verres, de la documentation complémentaire, ou des objets de communication.
On peut également s'installer assis confortablement autour de la table qui accueille jusqu'à 8 personnes simultanément.
Réelle technologie Multitouch
Temps de réponse minimal
Reconnaissance de la forme (taille) du contact permettant de différencier des objets
Aucune calibration nécessaire
Configuration de l'unité sur mesure (taille de l'écran, processeur, mémoire)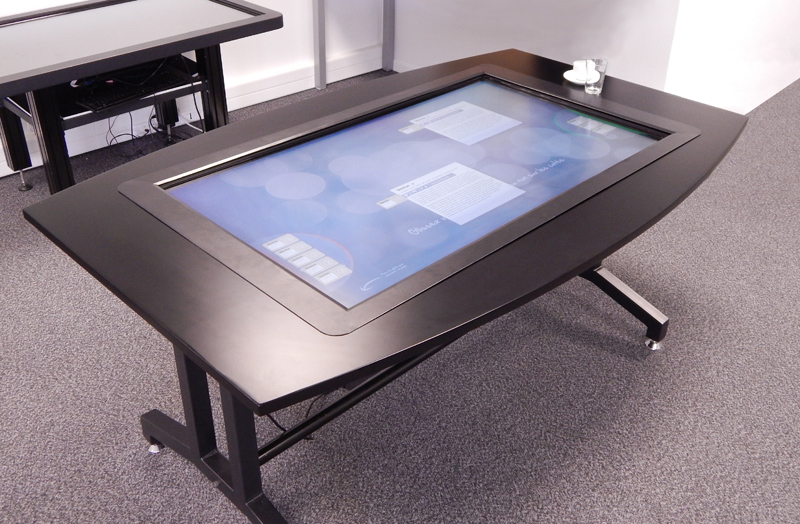 Caractéristiques techniques
Écran 55 pouces (autres dimensions disponibles)
32 points de contact simultanés
Écran LED tactile AUO
Pixel Arrangement : RGB vertical stripe
Temps de réponse : ‹6ms
Resolution : 1920 x 1080
Nombre de couleurs (Hue) : 16,77 M
Luminosité : 450cd/m2
Contraste : 5000:1
Angle de vision : 179°
Technologie tactile : LightWave
Résolution tactile : 32767 x 32767
Précision tactile : ‹1mm
Contact reconnu : objet opaque
Taille minimale : 3mm x 3mm
CPU : Intel Core i5, 2.00GHz (ou processeur de dernière génération)
Disque Dur : 320GB, SATA
Mémoire Ram : 4GB, DDR3
Carte mère: Nvidia MCP79
Carte graphique: Nvidia ION support DirectX 10, Shader
Dimensions :

LxP : 135cm x 83cm
H : 70-80 cm
Poids : 65 kg
PC hardware can be customised on demand.

[:en]
N° 1 for comfort
Features
The Dymension LightWood touch screen table is equipped with multi-touch LightWave technology which uses certain features of light wave transmission.  When the surface of the table is touched, the light network is damaged, similar to a net being torn.  The technology can track up to 32 contact points even if they overlap and can also detect the extent of the surface which is disturbing the light network.
The defining characteristic of this model is its design.  The screen is integrated into a wooden structure that makes the table not only practical but also user-friendly because objects such as glasses, sales documents or mobile devices can be put down next to the screen.
Up to 8 people can sit around the table comfortably at the same time.
Multitouch technology
Minimal response time
Recognition of the shape (size) of the contact to distinguish objects
No need of calibration
Bespoke configuration (screen size, processor, memory)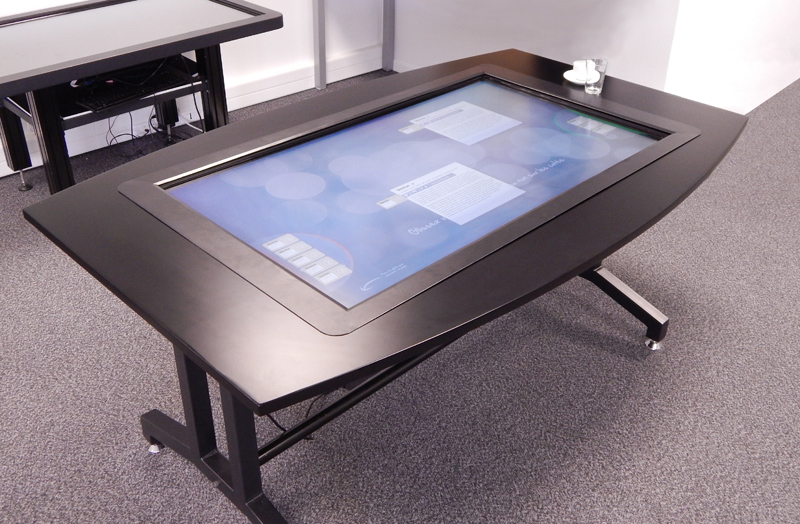 Technical specifications

55 " screen (other availables dimensions)
32 simultaneous contact points
LED touch screen AUO
Pixel Arrangement : RGB vertical stripe
Response time : ‹6 minutes
Resolution : 1920 x 1080
Display colour : 16,77 M
Brightness : 450cd/m2
Contrast ratio : 5000:1
Viewing Angle : 179°
Touch screen technology: LightWave
Touch screen resolution : 32767 x 32767
Touch screen precision: ‹1mm
Recognised contact : opaque object
Minimum size : 3mm x 3mm
CPU : Intel Core i5, 2.00GHz(or processor of last generation)
Hard Disk : 320GB, SATA
Ram memory : 4GB, DDR3
Mother board: Nvidia MCP79
Graphics card: Nvidia ION support DirectX 10, Shader
Product Dimensions :

WxD : 135cm x 83cm
H : 70-80 cm
Weight : 65 kg

The integrated PC can be modified on request
[:]