DCNS – Euronaval / Toulon
DCNS Defense Naval group and its communication specialists trusted DYMENSION to create the interactive multiscreen podium that would demonstrate their international knowledge ine naval defense during the Euronaval tradeshow and in its showroom on Toulon's site.
Our solution allows to control graphical scenarios that show DCNS activities, upon screen and model with Led.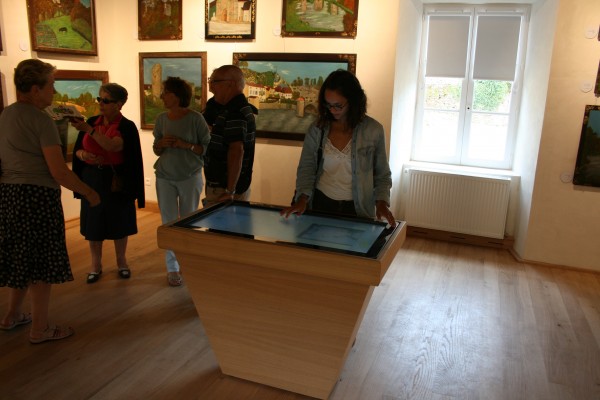 The city of Vicq-sur-Breuilh decided to install a touch table to help the museum public in discovering the work of naive art from the Gardens and museum of Cécile Sabourdy".
The developped solution allow to discovers the wort of art in a finer way, to compare picture with the original monument they represent, and to localize them on a map.
Altapura Hotel- Val Thorens
The 5 stars hotel ALTAPURA, located at the top of the ski station Val Thorens, choosed DYMENSION to offer a touch table and a touch concierge services solution .
Our solution allows to launch many services applications as well as games, to visualize medias or the station map with meteo.
A solution using Kinect by DYMENSION; an interactive wall that enables the user to control Google Earth as well as flying over and exploring regions using different gestures.
Demonstration of the application for touch screen table created by DYMENSION. This application is part of the Dysplay series and is being used here to present luxury hotels using geolocation, photos and video and the features of each hotel.
Interactive work surface "ScreenDesk"
Interactive work surface designed for use with a mini-projector on a granite kitchen surface and a Kinect for a limited budget and a highly effective result.
The system functions on any non-reflective surface and can display any interface; website (as demonstrated here), cash desk, current orders, etc.
Demonstration of the interactive shop window for the cake shop Delyss, presented at the « Magasin du futur » at the Sirha Hospitality & Food Catering Event in Lyon – 2013.
This solution enables a tablet to communicate with a display system to visualise the products reserved by a client (as shown by the colour) and obtain information on each product.  By using a Kinect camera as well, it is possible to see which products are missing.
Demonstration of the touchscreen table application created by DYMENSION for its client  « 6ème Sens » for use at the Salon d'Immobilier, a real estate exhibition held in Lyon in 2012.