Smiley Face kiosks OPINYON for client feedback
How can you let your client express their feeling ?
The OPINYON Smiley kiosk is a tool that measures client satisfaction with mere expressive smileys that invite them to give their feedback about your poducts or services.
Description
The OPINYON smiley kiosk unit offers a way to put client satisfaction at the heart of your commercial strategy.  Customer feedback can be measured in a scientific way through this great tool.
The concept is really simple : the kiosks are fully autonomous and can be laid in self-service in strategic places of your site. The users then answer a question, giving their level of satisfaction by pressing a mere button.  The results are sent and processed every half an hour to be available in your admion console or by email you the very same day.
It is up to you to choose how often you want to receive the data and whio receives it (a full department or just a few individuals).  We will help you to analyse the data and find practical solutions.
Needs no power supply
needs no Wifi (works by GSM or LoRa network)
Easy to move
Supports badging
Robust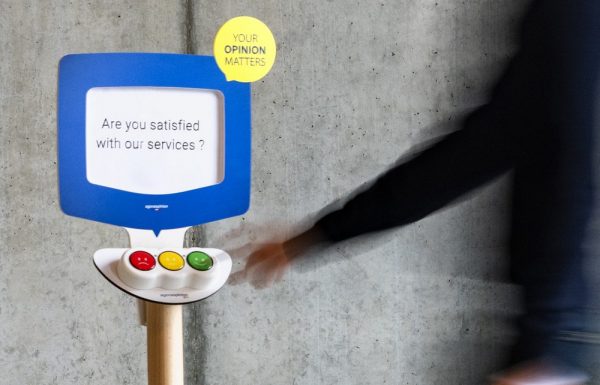 What are the advantages of using this device ?
For you :
Completely autonomous units (wireless)
Easily change question (with a mere printed paper)
Works everywhere (GSM or LoRa network, or Wifi)
24/24H – 7/7D  – no restrictions
For your clients :
One simple question
The feeling that their opinion matters
Anonymous and fast
A playful kiosk with 3 smileys
85 €/month
for a 12 month subscription
Who uses the OPINYON Smiley Face kiosk ?
EXPRESSYON : touch tablet based feedback
DYMENSION also offers a tablet based solution for your satisfaction surveys and feedback requests, allowing several questions to be asked : EXPRESSYON.

Unlike the previous solution, this kiosk works with Android touch tablets (from 10″ to 22″) or even on web browser on any kind of hardware. You can customize your own surveys through an online backoffice, and drop your poll on the tablet so tht it can work even offline.
The users answer several questions in some touches, that allow you to profile them for instance. Than, the results are available online in the BackOffice or through email reports (as long as the tablet gets a connection back).
What are the advantages of the kiosk ?
For you:
Ask many question, of different kind
Simple questionq you can create yourself
Works online or offline
Real time results
For your clients :
Fast and anonymous
Ability to leave free comments
Skip logic questions to lead a user directly to the usefull question
Elegant interface
135 €HT/month
for a 12 month rented kiosk
They use EXPRESSYON