Development of interactive applications
Dymension develops multi-user applications for interactive touch tables and single-user applications for touch screens and kiosks.
WHY DEVELOP YOUR OWN INTERACTIVE APP?
A professional, customised application for an exclusive interactive experience for visitors and customers. Adapts to suit your requirements and provides you with a pertinent and playful interface that corresponds with your company's values.
Building customised applications with the advanced technology of our interactive tables is an innovative service which puts forward a distinctive, cutting-edge image of your company. Some of the things that an interactive application can do: display your media, promote your know-how, train personnel, display your products and catch the customer's attention.
A customised touch application will give your customers a better understanding of your products and services through touch interaction and pertinent, up-to-date visuals, while also benefiting from the extra attention that this fun and collaborative tool attracts.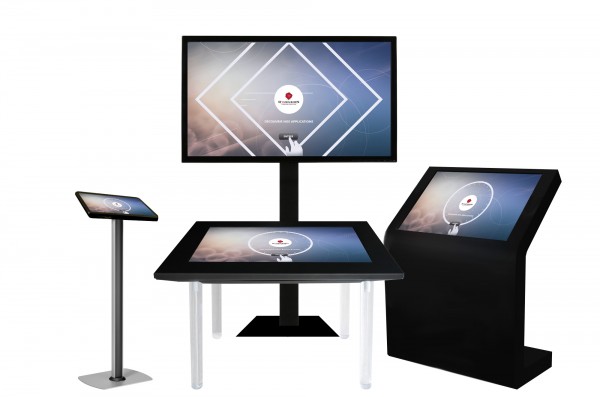 WHICH BUSINESS SECTORS ARE ALREADY EQUIPPED ?
We develop applications for numerous business sectors including :
Restaurants
Hotels
Public services (tourist office)
Consulting firms
Distributors
Event planners
Estate agencies
Museums
ADVANTAGES OF A CUSTOMISED APPLICATION
Developing a customised application allows you to :
Always have up-to-the-minute sales materials
Give your customers the power to customise your products
Improve the quality of your presentations
Offer your customers exclusive interaction tailored to their needs
Highlight your company values and up-to-date image
A new showcase for your business to show customers
Sell products and services with a simple swipe
SOME EXAMPLES OF APPLICATIONS WE DEVELOPED :