Mediascene: Your media takes centre stage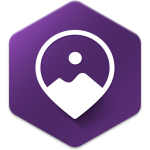 MEDIASCENE: a new face for your photos and videos to optimise your digital resources.
Display your different media on an animated background which will enhance its appeal and make people want to know more.
YOUR MEDIA TAKES CENTRE STAGE
Mediascene is a touch application to showcase your various media on an animated background. Your background is animated using HD images that are illustrative of your business and suit your needs. Simple and fun to use with animations at the heart of the display to encourage visitors to look, touch, and remember your multimedia content.
Media content can be displayed full screen. Images cross the screen with a simple sliding motion (swipe) and videos are easy to manipulate. Move through a video's timeline with the touch of a finger; it's much simpler than with a mouse.
More than just a simple presentation of your digital resources, Mediascene is a connected and rich user experience. Add information boxes with real-time information on the weather, traffic, recent sales or current flash sales.
Finally, take advantage of the magic of these tools to add extra interactive special effects! A layer of particles in the company colours can be layered over your touch display; or why not some sand, water, or a flurry of snow? Your customers and visitors can have fun drawing on the touch surface and uncover the temporarily masked content. Interactive windows continue to function through transparency.
Features
Style : Highly customisable with perspective and animated effects. Mediascene is easily adapted to suit all businesses and optimise their multimedia content.
Rich experience : Dozens of animations to be displayed on the screen at the same time to catch the visitor's eye.
Easy : Make windows smaller or blow them up full-screen so they are easier to use. Touch browsing with a single finger to view your resources.
Connected : Display information from the web in real time and turn your equipment into an information kiosk to quickly and fully satisfy the demands of customers and visitors.
Fun : An interactive and tactile relationship is formed between your visitors and the touch equipment through special effects like snow, sand, water and other particles. Enhance the user experience for customers through the senses and remain etched in their memory.
Picture galleries, slide shows and videos can be positioned (mapped) precisely on your background to illustrate details of the image. All of the windows are animated to increase their attractiveness. On the user's touch they will expand to make it easier for them to interact with your content.
EXAMPLES OF USES
Mediascene is ideally suited for all your visitors. It doesn't matter whether they are particularly interested in your business or not, since the application provides them with a range of photos and videos to view at their own pace. With just the touch of a finger they can find out more about you, whether they are just curious, in a hurry, focussed or distracted.
Mediascene can be used as follows :

Tourist office
On a background of regional landscapes. With promotional photos and videos as well as information boxes about the weather and must-see attractions
Trade show
On a background showing images of your production site. Promotional photos and videos to illustrate your main business activities as well as information boxes on the latest products.
Try MEDIASCENE