Planysphère : Google Earth
Planysphère: visit a region through gestures.
Planysphère is a touchless interactive solution which lets you control Google Earth and take a virtual stroll through the geographic environment using gestures.
IMMERSE YOURSELF IN THE REGION
The PLANYSPHERE system is an interactive wall composed of a wide angle projector, Kinect motion sensor and a mini PC. It projects you into a chosen region to explore in total immersion.
Users stand on an area marked on the floor and the system detects them immediately. They are plunged into their chosen region, standing on the ground, where they can :
grab the map by closing their hand and move their vantage point where they like
grab the map with two hands move their arms outwards or inwards to zoom-in and zoom-out
raise their arms or lower them down behind them to make the camera swivel and look at the sky or ground
move forward and backward a step to launch an automatic itinerary from the point where they are standing (and feel like they are flying over the area)
place their hands behind their back to return to the starting point
The user is given complete control to playfully explore a particular surface, aerial photo or 3D city, and move around as if they were really there.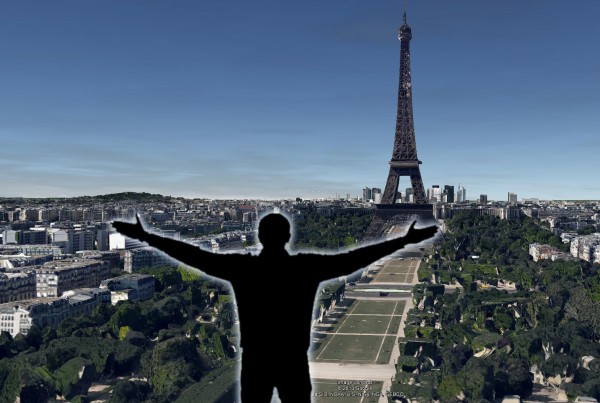 Features
Detection of main user even with other parasite users in the background
Gestures to move, zoom, pivot and return to starting point
Moving towards the wall automatically launches a fly-over
Proximity sensor to launch an animation
EXAMPLES OF PLANYSPHERE APPLICATIONS
Here are some examples of PLANYSPHERE applications :
Tourism
For tourism organisations, this tool lets users explore the territory in an innovative way, totally immersed in the geographic features and architectural splendours.
The solution also allows users to discover the edges of the territory (the borders can be outlined) and the area's cycling paths or hiking trails.
Property development projects
In an estate agents office or local planning agency, the application can be used to present new projects by adding the outlines, contours, cadastral plans and volumes of new developments to the map.